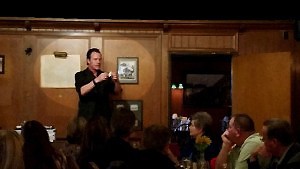 An after-dinner show is the perfect finale to any event and is appropriate for guests ranging anywhere from 2 to 200 people. Steve will wow your guests with some of the most mind-blowing magic they've ever seen. He has the ability to draw the audience in and create an intimate atmosphere with even the largest of audiences. His magic is edgy, humorous, and current – your guests will be talking about it for weeks afterward.
"Steve performed his magic at my 60th birthday and had everyone spellbound (including the wait staff). He is a master magician and a brilliant entertainer! A magical hour of fun! I highly recommend him for any function…you will NOT be disappointed!" – Vernon G. Wells, Actor (Mad Max: Road Warrior, Commando) 
"We had a 60th anniversary party for the Santa Barbara Newcomer's Club for 150 guests and hired Steve Wastell for entertainment. Our venue was at the Rockwood Women's Club of Santa Barbara. He performed a show rather than walk-around magic which worked great for us as our guests all had the opportunity to enjoy his magnificent talents. He had our crowd at a whisper waiting for what was to come next! His magic was just unbelievable, he was warm, friendly, professional and he completely engaged the audience. Steve was wonderful to work with; he was organized and stayed in communication up until the day of the event. He arrived in more than sufficient time for his performance. We loved him and can't wait to hire him again for future events."  – Karen W.    
Call or email Steve to book your show! (405) 237-8383